Events
Check back regularly to view exciting events and opportunities to learn and grow your business with Cultures That Work, Inc.
Webinar: The Missing Strategic Conversations: Accelerating Your Business Flywheel Through Productive Conflict
with Dr. Craig Overmyer from Cultures That Work, Inc.
Register
Dr. Craig Overmyer, our facilitator, has been a coaching partner with Verne Harnish and the Scaling Up Coaching Community since 2007. Craig and his team at Cultures That Work, Inc., Indianapolis, Indiana, have led hundreds of strategic thinking, execution planning events for mid-market firms.
His new Amazon Best Seller, Accelerate Thru Conflict: The Missing Conversations… Before It's Too Late provides specific guidelines for executive leadership teams to implement the Four STEP In-The-Moment Conversations. You will learn how to maximize how your team makes strategic decisions through productive conflict. Also, you will gain insights about how your executive team/strategic council can make better decisions when using the Scaling Up Scoreboard from Align. Dr. Overmyer will offer ideas about how to leverage the Fly Wheel concept by Jim Collins for more impactful One Page Strategic Plans.
Go to this link to download Part 1 of the book Accelerate Thru Conflict - The Missing Conversations... Before It's Too Late as preparation for this webinar:
Workshop: Scaling Up Business Growth
with Dan Hurley from Stratecution
May 13, 2020 | 8:00 AM – 4:00 PM EDT
ZingTrain | 3728 Plaza Dr. | Ann Arbor, MI 48108
Register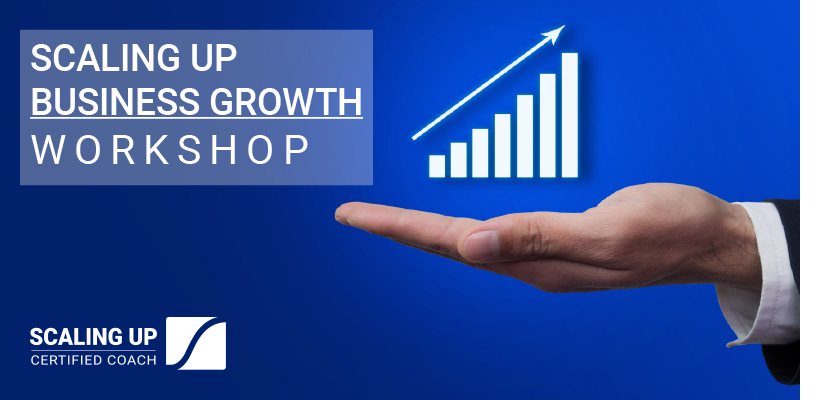 The workshop provides an overview of the Scaling Up framework, the 4 Decisions and associated tools. Although individuals attend the workshop, we find that it is most impactful when a leadership team of 3 to 5 people attend and can compare learning post workshop. The workshop is conducted by a Certified Scaling Up Business Coach experienced in strategic thinking, execution planning, change management and team development.
Have you optimized the GROWTH of your business with the ability to deliver on that GROWTH? Are you setting the stage to properly scale with demand? Are you executing a winning strategy while increasing your cash flow and maximizing profitability? Are you able to effectively overcome the natural tendency toward friction, confusion or under-performance associated with the complexity of a growing entity? If you answered NO to any of these questions, this workshop will provide a system and tools to overcome these challenges.
The world-renowned Scaling Up Business Growth Workshop empowers you to accelerate profitable growth using a time-tested and results-driven methodology. Through this exclusive learning experience, Certified Scaling Up Coaches have empowered more than 40,000 executives and their leadership teams with proven tools and strategies to scale up smarter. It can help you:
ALIGN
Get faster results with less effort by developing organizational clarity and accountability. The workshop will prepare you to get your Team Aligned to Accelerate Growth!
ACCELERATE
Develop a strategic advantage over the competition. Position your brand as a market leader.
ADVANCE
See your company's reputation and revenues soar as employees understand and fulfill 100% of your brand promises.
Using the concepts, tools, techniques, etc. addressed in the book authored by Verne Harnish, Scaling Up – How a Few Companies Make it and the Rest Don't, Certified Scaling Up Coaches have enabled companies to dominate their industries and make a bigger difference in the world.
WHO SHOULD ATTEND?
This course is open to all those interested in amplifying their success and scaling up their businesses via a proven business growth methodology. We welcome lifelong learners and those hungry for best practices and cutting-edge thought leadership. We welcome leaders who want to develop their team—and know they can't do it alone – and are willing to invest in an outside resource for help.
To maximize results and return on investment, we encourage leaders and senior teams to attend together. Have at least 2 people from your team come to the workshop for the best experience, takeaways, and insights.
The workshop experience is best when attended by those who have already read the Scaling Up book by Verne Harnish and would like an experience using some of the Scaling Up tools for the first time. It is also for those who have tried to implement the Scaling Up tools on their own and have decided that they need the expertise of a coach to reach the next level of execution using the tools. There is much information provided in this workshop, so come prepared to learn, absorb and apply.
Please, reach out if you have any questions regarding the process or are interested in exploring a coaching relationship.
WHAT YOU'LL LEARN IN THE WORKSHOP:
The morning of the workshop provides a high-level overview of the methodology and the Four Decisions every company needs to do right: Strategy, People, Execution and Cash. An experience using some of the Scaling Up tools is also provided. The fundamental topics covered are:
Overview - presenting Verne Harnish and the Scaling Up organization and your workshop Coach Dan Hurley.
The Framework – overview of the Scaling Up framework and the Driver, Demands, Disciplines and Decisions required to maximize growth
One Page Strategic Plan – how to understand the foundation and structure of the One Page Plan, your roadmap to drive success.
Cash Model – how to double your operating cash flow in twelve months.
People - how to select and hire 'A' players and then avoid demotivating them.
Core Ideology – how to bring your core values and core purpose alive to energize your employees and simplify your human resource systems.
BHAG (Big Hairy Audacious Goal) - aligning it with your business fundamentals.
Brand Promise - the key strategic decision that differentiates you from competitors i.e. ``if you can't state your strategy in a sentence, you don't get it!``.
Annual and Quarterly Focus - the most critical short-term decisions an executive team can make to drive alignment and performance.
The afternoon of the workshop centers on Execution, organized around the Rockefeller Habits checklist and setting priorities captured on the One Page Plan.
Rockefeller Habits Checklist - ten essential habits that reduce the executive time needed to manage the business from 50 hours/week to less than 15 hours.
Meeting Rhythm - the daily, weekly, monthly, quarterly, and annual meeting rhythm and the specific agendas that make them effective and practical.
Metrics - the three types of metrics that drive the business on a daily and weekly basis.
Priorities - using daily, weekly, and quarterly themes to drive alignment and focus using the One Page Plan.
Organizational Structure - the most effective organizational charts and how to apply them to keep everyone accountable.
Themes - how to use them to make your priorities memorable and add energy to your organization.
WORKSHOP CLOSE:
We will ask you to evaluate your experience of the day and provide feedback.
We will provide a Scaling Up Certificate of Completion as well.
HOW ATTENDEES FELT AT THE END OF THE DAY:
"Excited because there are so many opportunities"
"I feel excited that there is an opportunity to put some things in place, especially around People and Values, that I found are the under-pinning of getting a real buzz out of the business and when you have got that, those two elements, then things start to happen in ways you don't understand. So, this has been a big help."
"I'm also excited. Excited because I've got tools now ... we can do this!"
"Today's been great. What I have seen today is that there are still some gaps, things I need to fill in and you have given us some pretty interesting processes to work through."
"Confronted but motivated"
"Relieved because some of the pain points I have been feeling there are some real solutions. I'm in a good head space particularly around the rhythm and regular meetings."
"Optimism and clarity. Clarity where I need to go as a leader, how I need to lead the business in the next steps, tools, and some direction."
"Clarity. The other thing I feel is, to be honest, relief to some degree because hearing everyone's stories and pressures - I am not alone ... powerful. This is the stuff we go through."
SCHEDULE:
Doors open for registration at 7:30am, workshop commences 8:00am sharp and ends at 4:00pm.
Zingerman's Famous Coffee Cake and Coffee will be provided during registration and lunch will be provided by Zingerman's. Close to the workshop date, you will be sent an email to complete a lunch selection from Zingerman's famous Deli. Everyone loves the meeting space as well as the staff at Zingerman's who provide a wonderful space for the workshop.
ALL WORKSHOP PARTICIPANTS WILL RECEIVE:
A copy of Scaling Up, written by Verne Harnish
A copy of Accelerate Thru Conflict – The Missing Conversations… Before It's Too Late by Dr. Craig Overmyer of Cultures That Work, Inc.
One-Page Strategic Plan and other actionable tools to help grow your business
Looking forward to seeing you at the workshop, I will be available for questions following the close of the workshop. However, should you have questions about the workshop or the work of Scaling Up Business Coaches, please connect with me prior to the workshop.
Dan, your Scaling Up Coach
Let's Get In Touch
Now is the time to start thinking about Business Growth through Strategic Culture Alignment.
Now is the time to take control.
Contact Us